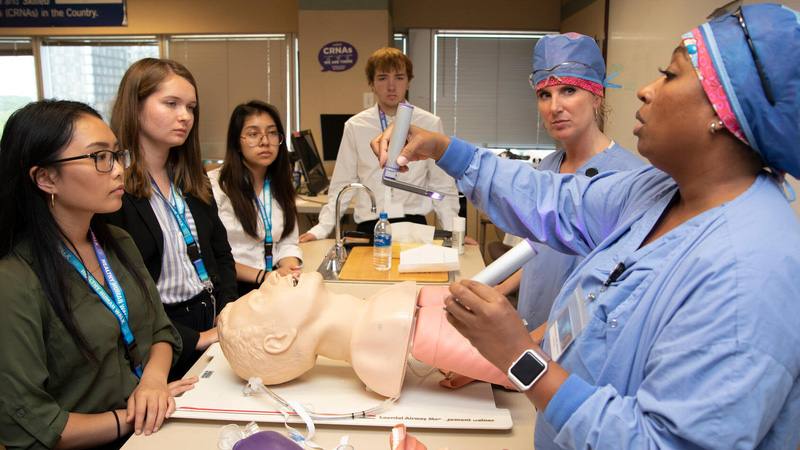 2019 Career Immersion Program
ROCHESTER, Minn. — Thirty-two Minnesota high school students are participating in a five-day residency at Mayo Clinic in Rochester this week, learning about 15 health science careers ranging from phlebotomy to nuclear medicine.
The Career Immersion Program, presented by Mayo Clinic School of Health Sciences, offers high school juniors and seniors an opportunity to gain hands-on experience with experts in some of the most sought-after health science fields. Now in its seventh year, more than 220 students from across Minnesota have come to Mayo to explore careers. Many have continued on to careers in healthcare.
"The Career Immersion Program has proven to be a great on-ramp for high school juniors and seniors who are keenly interested in health science and medical careers," says Grace Knuttinen, M.D., Ph.D., associate dean for admissions, diversity, equity and inclusion at Mayo Clinic School of Health Sciences. "During their five days at Mayo Clinic, they learn first-hand about the most in-demand careers in healthcare. They connect with many of the best allied health science professionals in their fields. They learn how to navigate the pathways to those careers, and they have a chance to network. It's an extraordinary opportunity, and the students who come here are motivated to take full advantage."
This year's program began Sunday night, with the arrival of students and dinner in downtown Rochester. On Monday, the students had four sessions, in histology, physical therapy, paramedics and surgical first assistant, as well as a tour of the downtown campus. The School of Health Sciences provides room and board, and the students have full schedules each day through Thursday.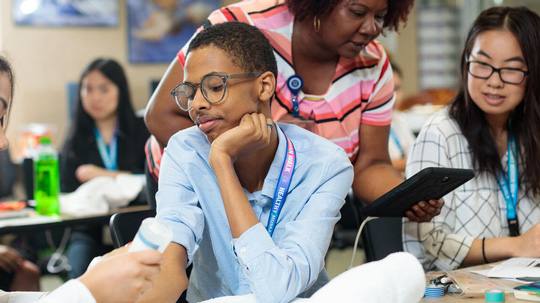 2019 Career Immersion Program
Other areas that participants will gain hands-on experience with are clinical neurophysiology technology, echocardiography, magnetic resonance imaging, nuclear medicine, phlebotomy, respiratory therapy, radiation therapy, radiography and sonography. Students also have sessions learning about the work of physician assistants and pharmacy technicians.
It's not all about career immersion, however. Participants have time in the evening, supervised by Mayo Clinic staff, to participate in local activities such as making art at Art Heads Emporium and playing pickleball and simulated sports at Chip Shots.
Admission to the program is competitive, and participants come from diverse backgrounds. "During the selection process, we take into account many factors to choose students who are interested in exploring careers in healthcare outside of being a doctor, nurse or researcher," says Jolene Young, program recruiter and senior admissions representative for Mayo Clinic College of Medicine and Science.
Among students who participate, many go on to pursue healthcare and health science careers:
12% of former Career Immersion Program students are now employed at Mayo Clinic.
16% of students later enroll in a Mayo Clinic School of Health Sciences program.
9% have enrolled in Mayo Clinic School of Health Sciences programs.
6% have completed other types of Mayo Clinic training programs, such as nursing internships.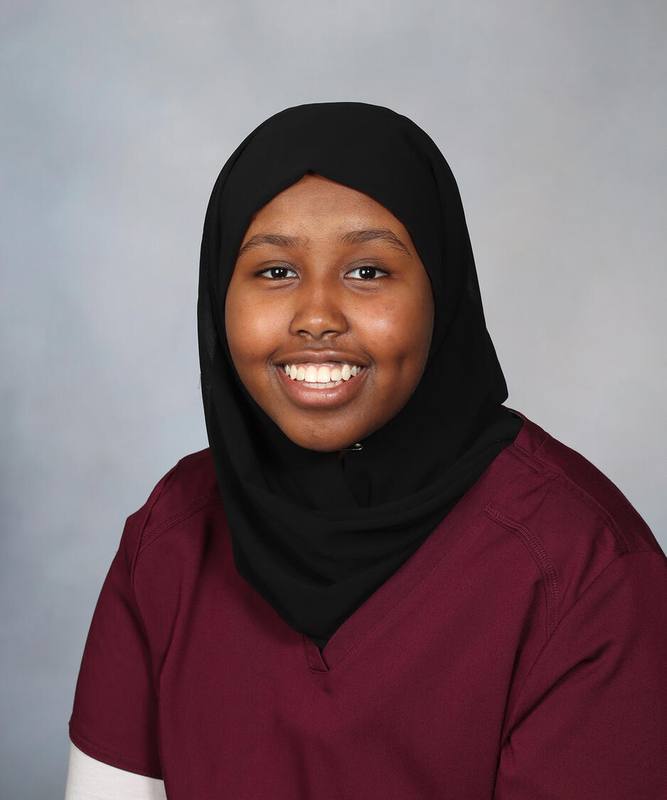 Faduma Farah was soon to be a junior at Rochester STEM Academy when she participated in the Career Immersion Program in 2019. "I met some amazing people in the program, and after gaining experience from many different healthcare professionals, I realized phlebotomy stood out for me," she says. "I liked the patient interaction as well as seeing the interactions between different healthcare professionals."
From that moment, she planned to become a phlebotomist. "After graduating from high school in 2021, I completed the phlebotomy program in the School of Health Sciences and have been working at Mayo Clinic as a certified phlebotomy technician since August 2021," Farah says. "I wouldn't have been able to learn about phlebotomy as early as I did if it wasn't for the Career Immersion Program." She's now applying to medical schools and hopes to become a primary care physician working in underserved communities.
Many other former participants have continued on the path to health science careers. Since the Career Immersion Program's inception in 2016, the University of Minnesota Rochester has accepted 54 former participants into its Bachelor of Science in Health Sciences degree program.
"Students tell us every year how surprised they are to learn that there are so many different types of jobs in healthcare," says Troy Tynsky, Mayo Clinic School of Health Sciences administrator. "These are high-paying jobs that are short on workers nationwide, and the education programs are affordable. It's fun and rewarding for us to open these students' eyes to all of this."
For media: To arrange for an interview or to attend a Career Immersion Program session on Thursday, contact Jay Furst, Mayo Clinic Education Communications, newsbureau@mayo.edu.
Related articles
Source link


We all want to be satisfied, even though we know some people who will never be that way, and others who see satisfaction as a foreign emotion that they can't hope to ever feel.



Peace and happiness can be difficult to catch. Finding the right balance that lets us get to all of the different goals that we have in place is not always as easy as we would like.