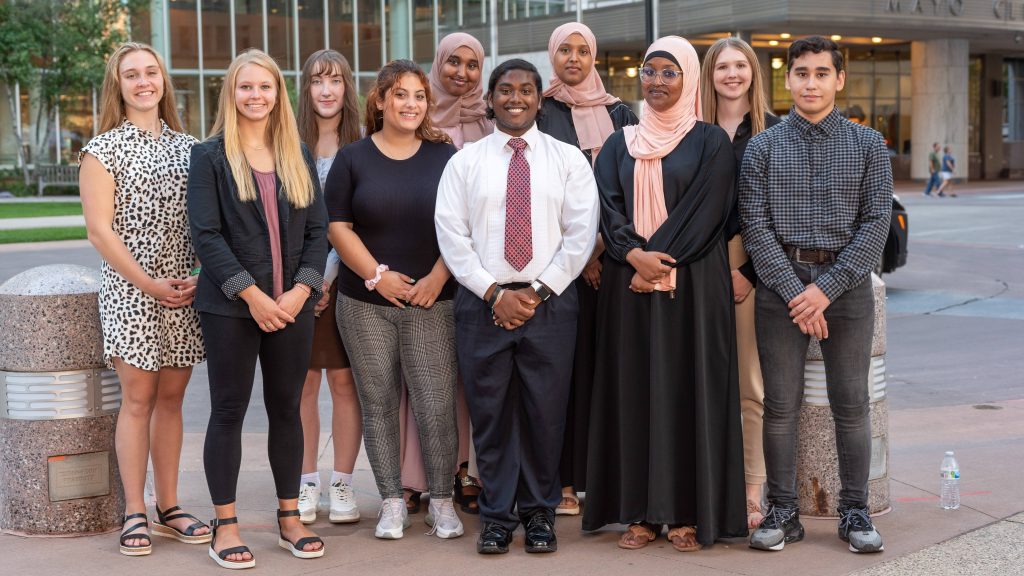 By Jay Furst
ROCHESTER, Minn. — Akhil Kollengode is a University of Minnesota Rochester (UMR) student who aims to be a project manager or operations manager in healthcare when he graduates. Thanks to an innovative collaboration between Mayo Clinic and UMR, he's on a fast track to achieving that.
Kollengode is a paid intern at Mayo Clinic as part of the Bachelor of Science in Health Sciences degree program at UMR. The internship is a key component of an accelerated pathway called NXT GEN MED, where students are enrolled in classes and training year-round and receive their degree in 2½ years, including three semesters of internships and mentoring provided by Mayo Clinic during that time.
"NXT GEN MED is helping to kick-start my journey to become an operations manager faster than with a typical four-year degree program," he says. "It also provides me with resources and networking opportunities early on in my college career, which will set the foundation for my work career and make that transition easier."
The NXT GEN MED program was launched in August 2022 with 10 students who are now engaged in internships in various work areas at Mayo Clinic in Rochester. Kollengode and his classmates are expected to graduate next year.
NXT GEN MED aims to create diverse and equitable pathways to healthcare careers in administrative services, says Jess Anderson, programs manager and senior education specialist for Mayo Clinic's Office for Academic Partnerships. Going forward, Mayo Clinic has agreed to fund up to 48 internships annually.
"This collaboration with the University of Minnesota Rochester provides Mayo Clinic departments the opportunity to build relationships with undergraduate talent early — within a student's first year of study — via mentorship and internship experience in their final 18 months of study," she says.
Among the Mayo Clinic departments and work areas that are providing internships are the Center for Digital Health, Center for Health Equity and Community Engagement Research, Mayo Clinic Comprehensive Cancer Center, Health Education and Content Services, Mayo Clinic Ventures, Practice Administration, Department of Laboratory Medicine and Pathology administration, and Supply Chain Management.
"We want to assure that interns come away from their experience with a solid understanding of Mayo Clinic's mission, vision, values and culture," says Anderson. "The internship should really help the student gain skills and clarify their career goals."
The internships are for 12 hours per week, 15 weeks per semester for three semesters, with a week off between semesters. Each student has an advisor to provide guidance and expertise throughout the internship. Advisors serve as facilitators, teachers, evaluators and role models for interns, says Guy Finne, director of Education Business Development for Education Administration.
"At the end of the internship, the student hopefully can say that the experience contributed in an important way to their career development," says Finne. "The goal is to make it as interesting and valuable for them as it is for us."
The Department of Laboratory Medicine and Pathology — with about 3,500 staff, one of the largest departments providing internships for this first UMR class — has one intern this year and hopes to have as many as five in the future. Intern Safa Moustapha Ahmed, whose family is from the East African nation of Djibouti, started her internship in May and will gain experience in supply chain operations, strategy management services and departmental administration during her three semesters.
"I had a feeling that this program would allow me to explore many fields in the healthcare system outside of patient care," Ahmed says. "I was looking for an opportunity to work behind the scenes and still have an impact on caring for patients. The program is very challenging since it's fast-paced, which makes it a good fit for me."
"For Safa and other interns participating in NXT GEN MED, to be able to get an internship experience at Mayo Clinic and complete a bachelor's degree in 2½ years is really an unparalleled opportunity," says Mark C. Brown, operations administrator for the Department of Laboratory Medicine and Pathology. "For our department, it's an easy choice — why would we not do this? We're able to work with really smart and motivated young people, and ultimately, we hope that Safa and other interns are able to return to Mayo Clinic to begin their careers after graduation."
Lori Carrell, Ph.D., UMR chancellor, says the partnership with Mayo Clinic can be a national model for how employers and higher education institutions can work together to develop talent.
"The University of Minnesota Rochester's diverse students are all passionate about making a difference in the world through a career in healthcare," says Carrell. "The Mayo Clinic Office for Academic Partnerships not only connected us to hiring managers to discern needed proficiencies and inform the faculty design team, they continue to enhance work-based learning through internships and mentoring."
#
Media contact:
Jay Furst, Education Communications, newsbureau@mayo.edu
Related articles
Source link


We all want to be satisfied, even though we know some people who will never be that way, and others who see satisfaction as a foreign emotion that they can't hope to ever feel.



Peace and happiness can be difficult to catch. Finding the right balance that lets us get to all of the different goals that we have in place is not always as easy as we would like.