The Netflix documentary series, At Home With The Furys, provides a fascinating look at the day to day life of Tyson Fury, family man and heavyweight boxing world champion.
A particular source of pride for Tyson is his heritage as a member of the Traveller community, his boxing moniker being "The Gypsy King". Yet despite the glitz and glamour that comes with being a millionaire celebrity, Fury has had his internal, as well as external, battles to fight. These include a long history of anxiety and depression, bipolar disorder, substance abuse and suicidal thoughts.
Mental health issues within Gypsy, Roma and Traveller (GRT) communities have long been described as being at crisis point due to a combination of complex factors that are not fully understood because of a lack of research. Indeed, GRT communities are among the most socially and economically disadvantaged groups in the UK and Republic of Ireland.
It is a situation which impacts housing, education, employment, and crucially, mental health and access to healthcare. But we don't know enough about what the causes are or how to stop them from happening.
My team and I conducted a study on the mental health support needs of people from GRT communities. We interviewed nine people from across the UK about their mental health and their experiences with getting support: four women, four men and one non-binary individual.
Three main themes emerged from our interviews:
1. Longing for acceptance
This related to a feeling of being ostracised from wider society. One participant said: "We face a lot of racism and discrimination in our daily lives which affects our mental health. And also that even with medical professionals, there is internal racism and discrimination."
2. Increased vulnerability
This theme related to the impact of economic deprivation, lack of educational prospects and future goals, as well as adverse life experiences.
Focusing on education, one person told us: "There's a lot of people who think 'it's too late you know, my dad never went to school, his dad never went to school, I went for a bit and then I got bullied and then I didn't go. So what am I going to do?' There's lots of people that feel proper stuck."
The combination of economic deprivation and lack of educational prospects makes members of GRT communities more vulnerable to mental ill health.
3. Barriers to seeking help
The barriers to seeking help for poor mental health highlighted by our interviews were perhaps the most telling sign of a crisis in this community. We identified issues in terms of awareness of mental health support services, especially the challenges of knowing what support is available while travelling.
The unsuitability of services was another issue. One participant described the difficulties of even accessing emergency help: "An ambulance won't actually come to the [Traveller] site until they have a police escort, and you are suicidal, and they treat you as if you're a criminal and you might actually attack them."
Stigmas surrounding mental health issues also cropped up. "My mother and my brother are very, very uncomfortable with me discussing my issues and they basically, they don't acknowledge it and they don't want to talk about it," one person told us.
Participants described their lack of trust in support services too. One person said: "It's a real driven, fear-based thing why a lot of the time we don't access those things. It's like a discrimination thing that's gone down and a fear of like actual services coming and taking your kids. If you reach out with your mental health, that mental health issue may be used as a reason for taking away your children or involving social services."
All of these factors negatively impacted the mental health of members of the GRT communities and prevented engagement with relevant support services.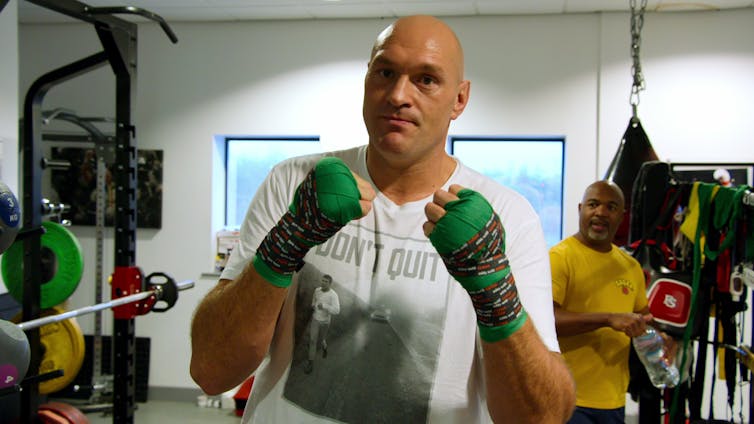 At Home With The Furys was released on Netflix in August 2023.
Netflix
Our research illustrates the importance of providing services to Gypsy, Roma and Traveller people with the cultural understanding, knowledge and resources to support them. A starting point for such an initiative would be an in-depth investigation of the psychological, social, environmental and institutional factors that make this community vulnerable and disadvantaged in their mental health care.
Building trust within these communities is also vital to improving their engagement with services. Dedicated outreach teams, alongside easier access to mainstream services, may be an effective method for achieving this.
The courage shown by Tyson Fury in discussing his mental health battles sets an example for other Gypsy, Roma and Traveller people to show that it is not a sign of weakness to experience mental ill health, and that support is beneficial and available for anyone in need.
Source link


We all want to be satisfied, even though we know some people who will never be that way, and others who see satisfaction as a foreign emotion that they can't hope to ever feel.



Peace and happiness can be difficult to catch. Finding the right balance that lets us get to all of the different goals that we have in place is not always as easy as we would like.